Did you ever remove the transmission case after a ride?…I did and it's hot like a barbecue. I removed it while hot because I felt smell of burning rubber (the belt?)…and I was right…the Kevlar belt was burned…not all but a good 70% plus the width was reduced in many parts…
So yeah I tried to run WITHOUT the case and afterward I could touch the clutch without cooking my fingers.
Front pulley and variator still hot but at least I could touch it for few seconds….before it was just impossible.
From this experience the idea to make holes like a good seasoned cheese from Italy to cool down the whole transmission.
RESULTS
I made a massive hole over the clutch bell and many others like 1cm diameter each.
The case structure remains solid and it cools down 300% better.
I've also gut the fins of the air front pulley to reduce weight and drag…it feels like it has a bit more acceleration.
As for cleaning? Pressurized water.
When it rains it doesn't affect much the efficiency… Except for the first few meters…once all the components get hotter everything works perfectly.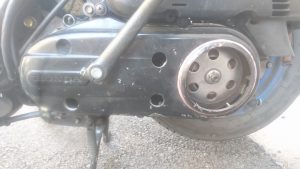 IMPORTANT KICK START MOD. As you can see I raised the kick start lever. PRO: easier to kick, racing look.
CONS: when you wanna remove the air filter you've to push the kick start down. Not a big deal though.