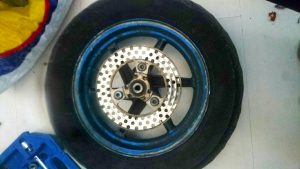 Look at it the front original disk…a mere 160mm which actually does its job when you match it with the right breaking pads of the right hardness.
As you might slightly see from the picture this disk is over. It was made by MALOSSI from which I would expected more. It's made out of steel but it's too soft and was literally eaten by the braking pads (branded BREMBO). Too hard pads for a way too soft disk. The end of the story is if you use BREMBO Disk then mount BREMBO pads. ALWAYS USE THE SAME BRAND FOR DISK AND PADS…or you might end eating the disk or consuming the pads too quickly.
Anyways I needed ecen more braking power and 160mm disk wasn't enough. So I bought this: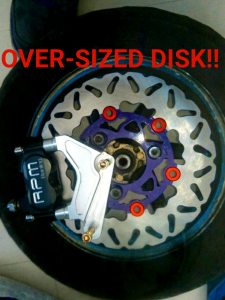 This bad boy its 230mm!!
230mm disk!!!
As you can see it's big as the wheel itself.
…then…the unexpected: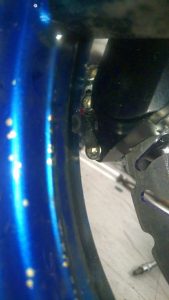 the gorgeous RPM CALIPER scratches on the rim!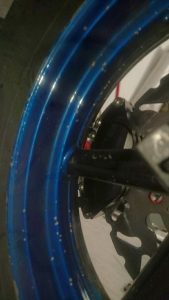 shaved bolts won't help… still stretching on the rim.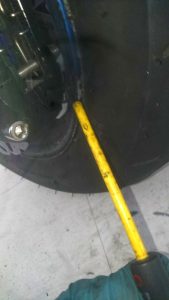 screw can barely get in between disk and rim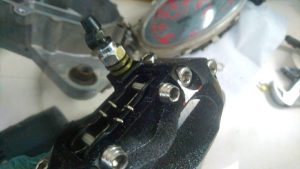 here I shaved it a bit but just 0.5mm is left from the rim. On top of that the wheel won't mount. In case you wanna attempt to install a 230mm remember you'll have to reduce it may be up to 228mm.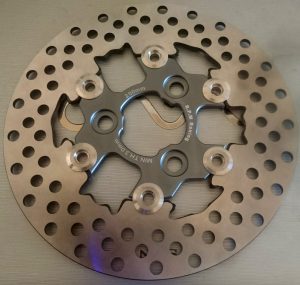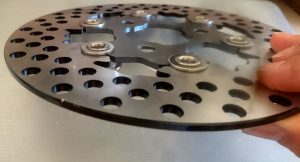 Since I was too upset and tired to do that tedious work I've ordered instead a 200mm disk from RPM for 30$. It looks well made and actually the steel looks even sturdier than the 230mm. I like the black unless coating on the outer of the disk and inside the holes.
I don't know the quality of this RPM caliper, disk and breaking pads… we'll find out soon!!
WARNING! WHENEVER YOU INSTALL AN OVERSIZED DISK YOU'LL UNDERGO A DANGEROUS GYROSCOPIC EFFECT THAT IN CASE OF A SHARP STRONG BRAKING YOUR WHEEL WILL TEND TO SUDDENLY TURN TO THE SIDE OF THE WHEEL WHERE THE DISK IS INSTALLED (in this case to the left)… WITH OBVIOUS TRAGIC CONSEQUENCES.